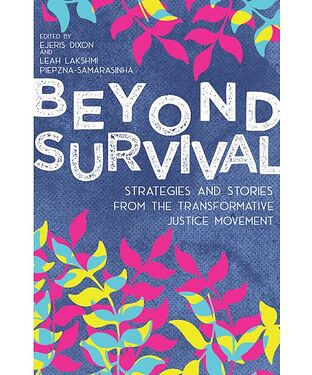 Lately my life seems brimming with various calls for or attempts at restorative and/or transformative justice processes, but it seems even for those who have some clear vision of what to do, the attempts often have significant blindspots and successful resolution is often elusive, and the process regardless of success comes with significant challenge and comes at great cost.
Perhaps this is the nature of the healing, restoration and justice, but whatever the case, it seems putting more energy into understanding it would be worthwhile. So, I am interested in deepening my understanding and drawing from the experience of others.
The Book Beyond Survival: Strategies and Stories from the Transformative Justice Movement is a compilation of essays edited by Ejeris Dixon and Leah Lakshmi Piepzna-Samarasinha which draws on many experiences with restorative Justice Processes, specifically in community contexts with an emphasis on practice and concrete implementation.
I would love to discuss this book club with SoFA folks! As well as folks from other communities I am in.
I will be facilitating the book club, and tend towards a clearer structure, but the details will be decided by consent (perhaps even a little mini proposal forming process) with the group once we start. We'll use a bit of a modified sociocratic meeting structure

I may be facilitating multiple book clubs on this book, and depending on the interest, they may be seperate or combined.
Want to join?
Please reply here in this thread if you'd like to join and I'll get in touch and we can schedule a time.
Please include:
If you prefer written or verbal/video discussion or both.
1b. If video/verbal, how many sessions do you think you'd like to join? Any scheduling/timezone notes?
Any specific interests, around the topic or book club please also share them in your post. This will shape my facilitation
Would you like to/prefer to be in a group with only SoFA Members or prefer a mixed group that includes SoFA and non-SoFA Members?
If you aren't a SoFA Member and would like to join, send me a message on the forums or another method (you may have or can find my email or another contact) and we'll see which discussion group it will make sense for you to join, as we may have more than one.
Get the book
The book is available in print and ebook (including in kindle compatible mobi format) from the publisher linked (and Kindle - not linked).