---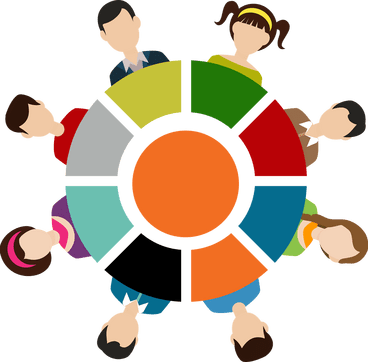 ---
The community of practice (CoP) for facilitators in SoFA is a group of individuals who come together to share their knowledge, expertise, and experiences in facilitating Sociocracy, which is a method of governance that promotes collaboration, consent-based decision-making, and distributed authority through circles and domains. CoP-F provides a space for facilitators to connect, learn from each other, and collectively advance their skills and understanding of Sociocracy.
Here are some key elements that could be included in a CoP for facilitators in Sociocracy:
---
Shared Purpose:
The CoP-F have a clear and shared purpose that defines its goals, objectives, and scope. This include promoting the practice of Sociocracy, advancing facilitation skills, and fostering a supportive community for facilitators.
The description of the Community Of Practice For Facilitators CoP-F is very simple and clear:
Peer support space for sociocratic facilitators.
This community of practice currently uses a rotating facilitation format.
---
Membership:
The CoP-F is open to anyone who has an interest in facilitating Sociocracy, including experienced facilitators, aspiring facilitators, and those who are interested in learning more about the practice. Members can come from various backgrounds, such as organizational development, leadership, facilitation, and other related fields.
---
Who can join the SoFA CoP-F?
---
These are the steps to join SoFA Community of Practice for Facilitators (CoP-F):
Fill out the form at the bottom of this event page (you will receive an automated confirmation message when your form is successfully submitted).
If you're not already a SoFA member you can attend your first session to try it out! If you would like to continue to attend after your first session, you will need to become a SoFA member.
---
---
---
Communication and Collaboration:
The CoP-F facilitate regular communication and collaboration among its members through SoFA online platform, SoFA discussion forum and our regular meetings, of course. This could include sharing best practices, case studies, resources, and discussing challenges and opportunities in facilitating Sociocracy.
---
Meeting time:
The meeting for CoP-F is on the second Monday of each month for 90 minutes.
There are two different events on the same day:
CoP-F East: at 14:00 UTC
(for zones like Asia, Europe, Africa and eastern North America)
and
CoP-F West: at 18:30 UTC
(for zones like western North America, South America or Asia-Pacific).
We want to offer everybody the opportunity to choose a convenient meeting according to their/her/his time zone.
---
Learning and Professional Development:
CoP-F can provide opportunities for members to enhance their facilitation skills and knowledge through practice, share real life experiences and peer-to-peer learning. This could include topics such as consent-based decision-making, circle structure, meeting facilitation, and conflict resolution, among others. CoP-F members could proposed topic to be discussed or specific activities that could help them increase their overall facilitators knowledge and skills in sociocracy.
---
Community Building:
CoP-F can foster a supportive and inclusive community where members can connect, build relationships, and support each other.
---
Innovation and Research:
CoP-F can encourage innovation and research in the field of Sociocracy facilitation by providing a platform for members to share new ideas, research findings, and innovative approaches to applying Sociocracy in various contexts. Reflections and feedback are important in SoFA CoP-F community of practice for facilitators.
---
Collaborative Projects:
The Community of Practice for Facilitators (CoP-F) can collaborate on projects related to Sociocracy facilitation to further promote the practice of Sociocracy and advance the field of sociocratic facilitation.
---
SoFA Community of Practice for Facilitators (CoP-F) provide a valuable platform for practicing, learning, collaboration, feedback and community-building among facilitators who are passionate about promoting Sociocracy as a governance method.
By coming together, sharing their experiences, and learning from each other, facilitators can collectively advance their skills and contribute to the growth and development of Sociocracy as a practice.
---
In the Community of Practice for Facilitators (CoP-F) no one teaches anyone, but we all learn from each other by practicing and sharing real life experiences.
We welcome your presence and contribution. It will enrich all of our sociocracy knowledge.
---
We invite you to participate at Facilitation practice – everything at once! (5 weekly sessions). This is an advanced facilitation course I recommend.
This is the right class for you if you want to be that weathered facilitator that sees a way forward, no matter what happens, so that everyone feels safe, heard, held, and empowered in your meetings. This class is practice in role plays & debrief only!
This class consists of FIVE weekly 2h-sessions starting on May 11, 2023
Best wishes to all of you!