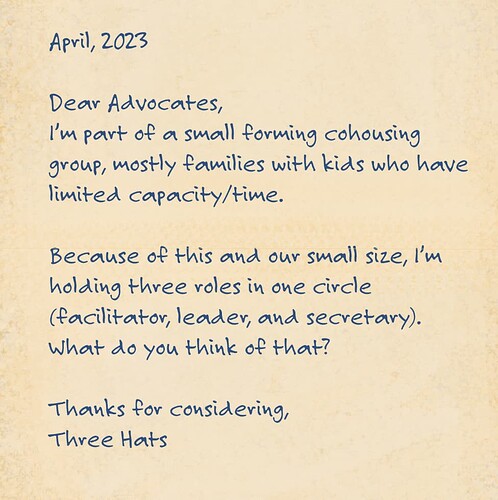 Hi Three Hats. Thanks for your question.
Here's what fellow Advocates have to say:
In terms of multiple roles, facilitator and leader roles go together better than facilitator and secretary. Facilitator and secretary roles demand a lot of focus in meetings. Best to have different people hold those roles when you can!

Keep in mind the benefits of developing and sharing skills. While you meet the demands of not having many/enough members to fill roles, how can you encourage leadership in others? For instance, can you invite meeting members to co-facilitate an agenda item or two in meetings so they gain the experience and hopefully take on facilitating in the near future?

Be cautious about taking on more than you have bandwidth for! As a community, ask what absolutely has to be done now, and only form more circles when there are more members to run them. People who have time and take on lots of roles can be in danger of burning out.
Any more recommendations, please share them here.
Are you a member of an intentional community and have questions and experiences you'd like to share? Come to our next Advocates Community of Practice gathering on May 8th.