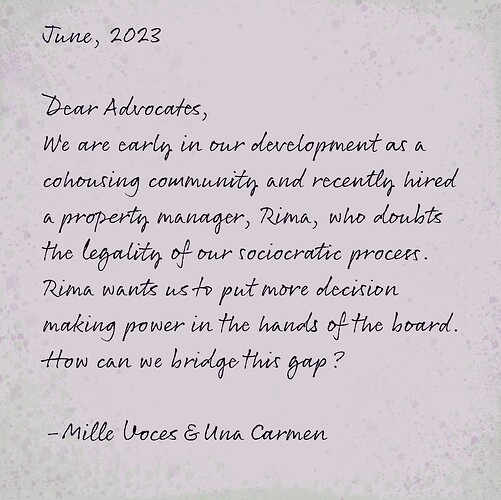 Thanks for your note, Mille and Una.
Here's what some of the Advocates had to say:
Help Rima (and your community) learn more about sociocracy and legal structure.
You could start with these articles:
Legalizing sociocracy: bylaws and governance documents and The legal documentation of sociocracy.

Sounds to me like the property manager doesn't understand how sociocracy works. Clarify that the board has delegated this authority…If more information doesn't help you can look for a property manager who is more familiar with sociocracy, or more open to learning about it!

Hire a sociocracy consultant to clarify the legalese and help you communicate with your property manager.

Have the mission circle be the board. Or make decisions at circle level, then get the board to officially "approve" the decisions.

Our community uses Committee of the Whole and Consent Agenda, two sociocracy friendly strategies that help us meet legal requirements.


A Committee of the Whole brings together the people legally responsible for decisions and other stakeholders in those decisions. The general membership, for example, can serve as the Committee of the Whole for the condominium association. Consent decisions made by a Committee of the Whole can then become Consent Agenda items for the condominium association, its executive board, or any group as appropriate.


A Consent Agenda is a meeting practice that groups non-controversial and/or routine items in one agenda item. The Consent Agenda can be approved quickly in one action and without discussion, rather than deciding each item separately. The consent agenda is particularly useful for items that have been previously discussed at length, for example in a Committee of the Whole.
Anything you'd like to add? Please share it, and click HERE for more information about the Advocates Community of Practice.
Are you a member of an intentional community and want to join the Advocates?
Sign up HERE . Our next meeting is Monday, July 12th. Hoping to see you there!