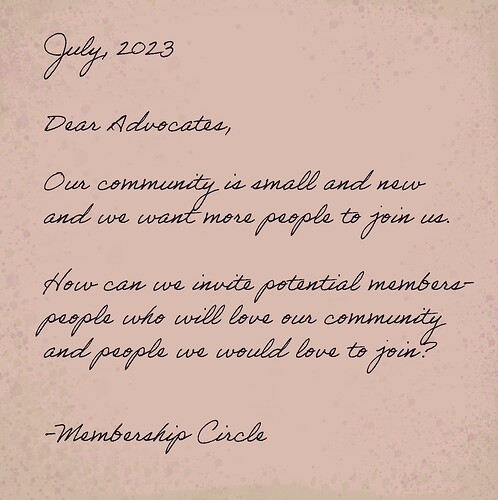 Thanks for your note, MC. Here are some ideas from the Advocates:
How to invite new members?
Be specific about what your community is aiming to become, and be very clear on your values.
This includes your being a sociocratic organization. New members ought to be trained in sociocracy as soon as possible so the community has a shared language: have your governance method be clear and established.

Agreed. Get a stable picture of who you are: write and share your community's Vision, Mission, and Aim. And beware the Tyranny of Structurelessness. Being general instead of specific doesn't lend itself to growth.

We get interest by advertising on Facebook, holding information meetings with sign-ups so people can commit to the next step or request more information.

We hold "super weekends" for people to visit us and get a sense of the community.

*Our community has specific trainings for potential members. SoFA's ELC Sociocracy Basics brings people together and shows their commitment. That then leads to more engagement, like people joining our circles.
Anything you'd like to add? Please share it, and click HERE for more information about the Advocates Community of Practice.
Are you a member of an intentional community and want to join the Advocates?
Sign up HERE . Our next meeting is Monday, August 14th. Hoping to see you there!