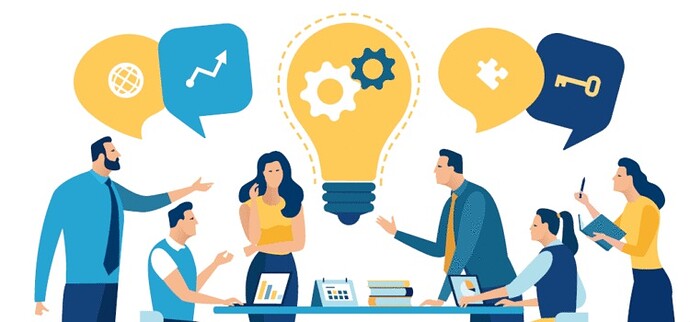 Very good, but perfectible, as we all are, by the way …
SoFA became a big organization, very good, but perfectible, as we all are, by the way.
My first interaction with sociocracy and SoFA was when I was looking for an effective and efficient way to support me in the organization, administration and functioning of a community.
Before sociocracy, I came across the notion of holacracy, but in a short time I found that it was a bit too complicated for what I needed, and it was also more difficult to duplicate.
Considering that there could be something simpler and more accessible, I continued my research.
Visiting the SoFA website, I learned about books and I decided to purchase the electronic versions of the books: "Who Decides Who Decides?" and "Many Voices One Song". Later on I discovered "Let's decide together" as well.
I chose to read the first one because it was "thinner" and because I liked the promise: "How to start a group so everyone can have a voice!"
In the introduction, Ted states: "My dream is to bring the skill of self-governance into every corner of society."
I immediately identified myself with this statement, because I feel the same way.
After that, a series of events followed that led me to become a SoFA member and to form a child circle, adjacent to the SoFA International Circle.
Attending SoLT and observing how much SoFA has developed in just a few years, I always asked myself this question:
"How could the development of SoFA become sustainable, so that Ted's wish (which is also my wish) to "bring the skill of self-governance into every corner of society" could become achievable, sustainable and maybe even take place at an accelerated pace.
As a member of the International Circle, I noticed a concern and even some tensions arising due to the fact that there is already an increase, but the ability to administer it has not yet developed as much.
I am glad that there is a concern about a possible reorganization.
Unfortunately, dividing international circles into "more experienced" and "less experienced" categories does not lead us to greater inclusiveness.
Obviously some are more experienced in sociocracy than others, but in my opinion that's not a good reason to use it to create categories. Such a division would only create an inequity.
Also, experience in sociocracy is not the only skill needed to build and maintain a functional community, and here I also mean the ability to spread the word about sociocracy and the ability to acquire the necessary resources to function and progress.
In these conditions, how could we spread sociocracy and "bring the skill of self-governance into every corner of society"?
Of course, everyone can have a personal opinion about this.
In my opinion, the best way of sustainable development from a geographical point of view is based on criteria that emulate the current territorial administrative organization of the world, starting from continents and continuing with all the countries & territories, getting closer and closer to "every corner of society".
This kind of organization could lead both to a collaboration between neighboring cultures, and to a significant cultural exchange between very different cultures.
Yes, I know that this requires a certain vision and a certain willingness to adapt and change, but in the end doesn't sociocracy propose an alternative for organization and decision-making that is more inclusive and in which every voice really counts?
I shared all this considering that sharing is not harmful and that every voice should be heard in one way or another.
It doesn't mean that everything someone says will stick, but if everyone were to be silent, where could new ideas for progress be born?
These only represent my thoughts and my voice. What does your voice have to say about this?
I would appreciate any feedback from you.
Adrian, your friend. (Or not?)
p.s. Here you have:
===
Sociocracy For All Vision, Mission and Aims
SoFA Vision
A world in which people engage together to meet their individual and collective needs in an equitable way, with respect for all living beings.
SoFA Mission
To promote sociocracy locally and globally as a sustainable way of governance. We do this by generating communities of practice and innovating by making decisions together, sharing what we learn, and inspiring each other through accessible and transferable materials, training, and resources.
SoFA Aims
Spreading sociocracy with accessible, educational and inspirational materials about sociocracy (articles, videos, webinars, social media) (primarily CC BY-SA-NC license) and through training and consulting. (Content Circles)
Networking and supporting the sociocracy world, including SoFA members, sociocratic practitioners and promoters, and regional and language-oriented groups. (Ecosystem and International Circles)
Providing SoFA infrastructure and administrative systems so that there is ease in running the organization. (Membership Circles)
===
See also: Social Justice Statement of Sociocracy For All
I appreciate SoFA and all of you for bringing so much inspiration into my life and into my own realty. Thank you!