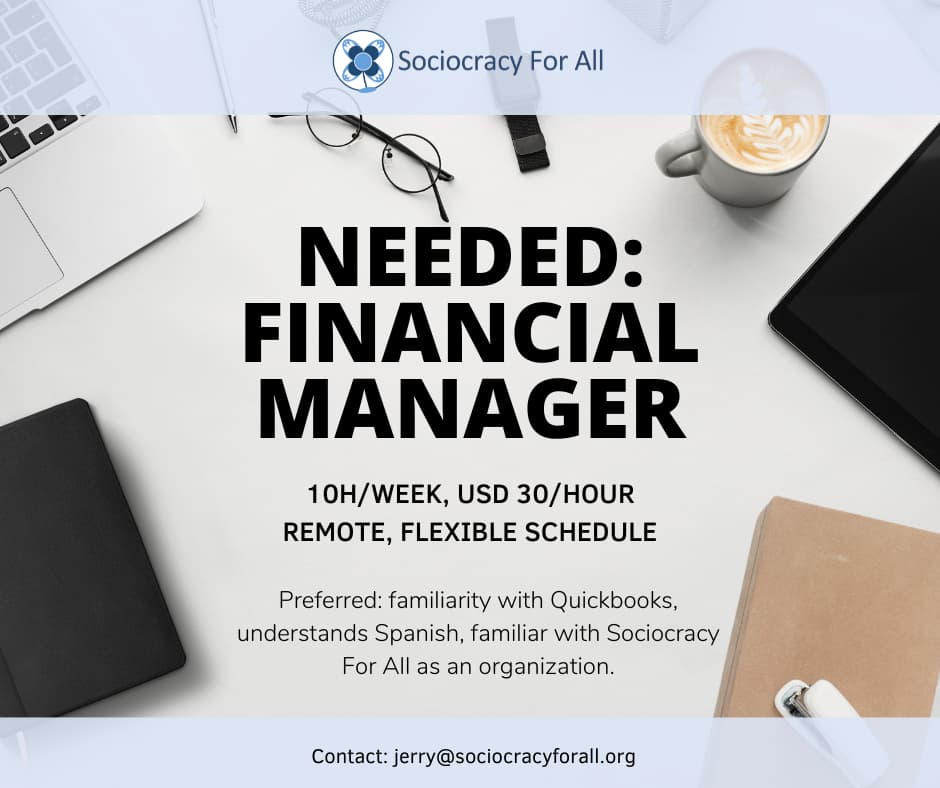 This role lives in Finance Circle.
Email jerry@sociocracyforall.org to inquire
Financial Manager
Role Description:
Activities:
Managing the financial matters of SoFA. Activities:
Leading the quarterly reporting and budgeting processes
Managing the financial aspects of hiring and letting go of employees and contractors
Managing the functionality and inter-functionality of financial apps and bank accounts, namely WooCommerce, My Works, Stripe, PayPal, Wise, Florence Bank, Citizens Bank, Quickbooks, Payroll service, Workers Comp
Supporting the work of SoFA bookkeepers, in particular helping resolve questions about accounts payable and accounts receivable, and reconciliations
Serving as Help Desk for SoFA financial and budgeting questions
Reconciling the Stripe account
Bookkeeping the integration of multiple entities financial information (SoFA, SoPRA, Open Collective Europe, Cambridge Peace Project)
Working with the CPAs on the annual financial review/audit.
Filling out, with support from CPAs as needed, the annual 990 and MA PC reports
Ensuring proper documentation for and reporting to governmental jurisdictions for business nexus, including reporting new hires, reporting and paying unemployment and worker's compensation insurance.
In general, leading the development of financial policies related to personnel.
Leading the evolution of the chart of accounts and Quickbooks products as needed.
Guided by (policies, workflows):
(nothing special)
Collaborates with:
Finance Circle
Qualifications
Familiar with Quickbooks
Ideally speaks (or at least understands) Spanish
Familiar with SoFA as an organization.
Hours/week
10h/week
Compensation
$30/h (for US or EU; might be adjusted to local cost of living for outside US/EU)
Term:
Will be decided in mutual consent.