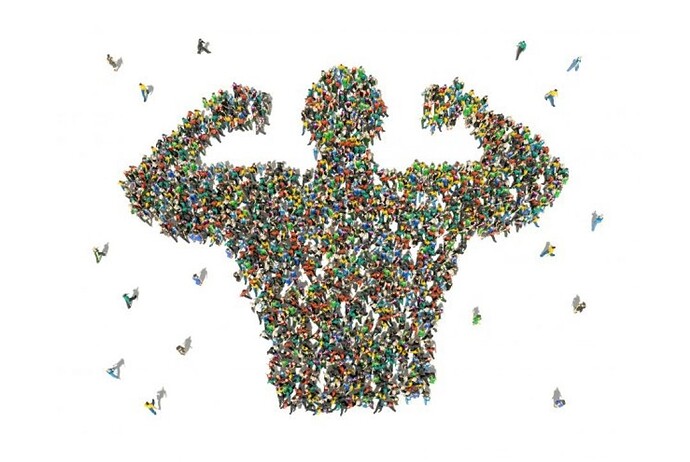 For People & With People
A few hours ago I said something about the idea of forming a "BALL" (Big All) Circle - a kind of "Agora" Circle where people could participate in online meetings regularly (obviously, not all at once). I found out that there are such meetings from time to time and that the Discussion Forum supports connection between people in an asynchronous way.
Fine! Is this enough?
What do you think about the written words? Are they sufficient and effective in making and strengthening genuine human connections?
Another question for me is: "Do we need more human connections inside the organization?" or "Do we want more human connections inside the organization?"
If the answers are positive, is it enough to use the written words for this?
In case writing and asynchronous communication between people is enough, why should we have meetings? Why don't we just share information, make comments, learn new things on the way and so on?
I guess not seeing each other enough prevents us from becoming too familiar and to really connect, finally.
Our world is full of written words in books, articles, online, offline and we are still so disconnected as a human race.
Do you think that coming closer to each other will prevent us from accomplishing the Vision, The Mission and the Aims of our organization and our circles?
If this is the case, let's stay apart and avoid as much as possible seeing each other.
People who don't see each other, forget each other, you know …
If we want to be parts but not a whole, we should, indeed, avoid each other.
Talking together while seeing and hearing each other amplifies "the risk" to know each other better, to like each other, get closer to each other and have more influence power together, as a community.
This topic made me remember a discussion from my childhood. We were in a small group and someone asked someone else: "Do you like me?" The answer was brilliant: "I like you as much as you like me." Indeed! Why should it be otherwise?
Well, there is much knowledge in SoFA, in SoFA circles, in SoFA events, in SoFA trainings, in SoFA conferences and of course in SoFA Academy. I recommend everybody to feed himself / herself with all this knowledge and increase his / her own expertise in sociocracy.
Is this enough "to bring the skill of self-governance into every corner of society"?
Are we able to stay together and "bring the skill of self-governance into every corner of society"?
Is this organization "For All" of us or just the organization of a few "selected" people?
Are the circles and the domains just a way to share decision-making power or is it also a way to isolate people?
Do questions bother somebody or are we happy to gather more intelligence and use it to accomplish our vision, mission and aims?
Are we upset to have more voices or are we happy to encourage good conversation ant consistent opinion sharing?
Well, for me diversity is a gift, even when I do not agree. What about you?
We cannot avoid diversity, but we could explore it, discover it, understand it and integrate it in a way that enriches us on our journey to spread sociocracy.
As you probably know, this is my "voice" (represents my own thoughts and feelings) and it does not represent anybody else.
I would be happy to hear more of your thoughts (opinions, comments, feelings etc.) as long as you think it is proper to share.
In the Discussion Forum Guidelines is mentioned:
Quote:
Don't sign your posts — every post has your profile information attached to it.
so I won't tell you my name anymore.
It's enough for me to make my "voice" heard along with all the other voices.
However I will continue to be …
Your friend,
because I care
p.s. What do you think? Any feedback? Best wishes!
I also invite you to read this article in the SoFA web site>
Let's take care of the power, that we can take care of ourselves
Quote from inside:
No one liberates anyone, nor does anyone liberate himself alone. People liberate themselves in communion.

Paulo Freire, Pedagogy of the Oppressed
I also invite you to read the SoFA books:
Who Decides Who Decides? - How to start a group so everyone can have a voice!
Many Voices One Song - A sociocracy manual
Let's decide together - The definitive guidebook for practicing decision-making with children
and as many articles as possible.