---
---
YES, I love sociocracy.
YES, I spend time pondering on sociocracy.
YES, I guess NVC offers us a better way to see in sociocracy.
YES, I am looking for authentic togetherness.
YES, togetherness includes care.
YES, playing is an easy way to experience and learn.
YES, I detached myself from the outcomes and I do it for joy.
Are we on the same page? Maybe not, but I guess we are on the same book …
YES, playing with words in a significant way could be fun.
Just for fun, I included a Sociocracy Poem in my Sociocracy Learning Journal:
---
In the circle we gather,
A community is bound together.
Each voice is heard,
No one is deterred.
Sociocracy is the way,
To govern and to "play".
Equality is the rule,
And no one is a fool.
We share in the decision,
No one's left with division.
We work towards harmony,
In a society that's free.
With consent as our guide,
We let go of our pride.
We listen and learn,
And together we earn.
A system of cooperation,
For a world in transformation.
Sociocracy is the key,
To a better society.
---
I hope this will make you smile. It could remeber us a "why" of being together in sociocracy.
Keep in touch,
Your friend.
---
---
To discover more "in depth" insights about "How to Use Sociocracy", I invite you to use this Sociocracy Manual:
---
I guess it is a good idea to combine theory with practice so I invite you to be present and to participate in our:
---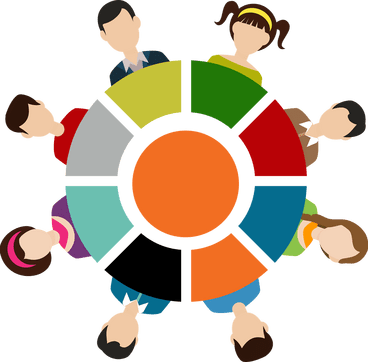 ---
In the Community of Practice for Facilitators (CoP-F) no one teaches anyone, but we all learn from each other by practicing and sharing real life experiences.
We welcome your presence and contribution. It will enrich all of our sociocracy knowledge.
Next meeting is scheduled for May 8th, 2023, from 14:00 UTC (CoP-F East) and from 18:30 UTC (CoP-F West). We are available to schedule any other meetings, as necessary.
Best wishes to all of you!